Car Nicobar Sub-Division
The Car Nicobar Sub Division is consisting of four Police Stations i.e. Car Nicobar, Nancowrie, Katchal and Teressa, one Look out post Tilongchoung at PS Nancowrie and one Out Post Chowra at PS Teressa.


Teressa Police Station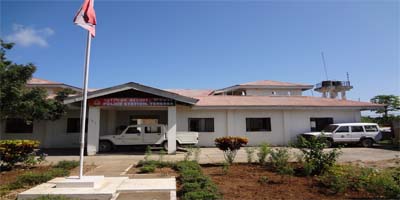 About the Teressa Police Station
Phone No: 03193-294039
Police Station Teressa was started functioning on 03/02/2005 vide Notification No.4-67/97-Home dated 02/02/2005 at Bengali village. Before this, there was Look Out Post at Teressa. Police Out Post Chowra comes under the jurisdiction of this PS.
The Police Station is functioning in a newly constructed double storied RCC building located at Bengali village inaugurated by Shri. Sharad Agarwal, IPS, Dy. Inspector General of Police(HQ), A&N Islands on 31st May, 2011. This building has all modern basic amenities for the staff posted in the Police Station.
Teressa Island comes under Nancowrie group of Islands under Nicobar District. In Teressa Island eight villages are situated namely Bengali, Alurong, Kalasi, Kanamhinot, Minyuk, Enam, Chukmachi, Luxi and Bambooka and in which approx. 2520 tribal population are residing.
PS Teressa jurisdiction is also part of the Andaman and Nicobar Tribal Reserve Area, which bars non-tribal people from visiting or conducting business on the island without permission, subject to the provisions contained in A & N Islands (Protection of Aboriginal Tribes) Regulation 1956. PS Teressa jurisdiction having only tribe namely Nicobari constitutes the larger part and they reside in all the villages of Teressa, Bambooka and Chowra Isand. They are horticulturist and pig herders. The main food pattern of Nicobaries is Coconut, Pandanus Pulp, Fish and Rice. Pigs and Fowls are kept for freasts. Cultivated fruits of many oriental kinds are eaten everywhere. Chewing pan and taking coconut brew. The great past time of Nicobarese is feasting. Football and Volleyball are the most popular game here. Canoe racing at Chowra, Volleyball and Crict are other popular games and sports. The Primary occupation of the tribal pupulation is agriculture, which is basically limited to Coconut, Arecanut and Banana plantation.