Car Nicobar Sub Division
The Car Nicobar Sub Division is consisting of four Police Stations i.e. Car Nicobar, Nancowrie, Katchal and Teressa, one Look out post Tilongchoung at PS Nancowrie and one Out Post Chowra at PS Teressa.


Nancowrie Police Station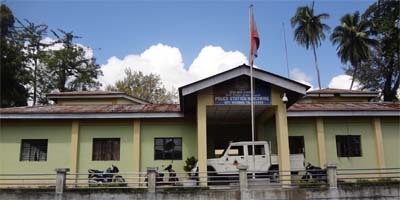 About the Nancowrie Police Station
Phone No: 03193-263464
The word "Nancowrie" refers both to a single Island and to the group of adjoining Islands that make up the central part of the Nicobar Islands chain, located in the Northeast Indian Ocean between the Bay of Bengal and the Andaman Sea. Kamorta is the biggest Island (188.20 Sq km) in Nancowrie group of Islands and the headquarter of this Tehsil, located between 7°59.21′N 93°32.86'E/7.98683°N 93.54767°E approximately 85 NM away in southeast direction of Car Nicobar, the District Headquarter. The Police Station Nancowrie is situated in the heart of the Island and just ½ KM away from the harbour. Nancowrie Island is also a part of the Andaman and Nicobar Tribal Reserved Area, which bars non-native people from visiting or conducting business on the Island without permission, subject to the provisions contained in A & N Islands (Protection of Aboriginal Tribes) Regulation, 1956.
The Police Station Nancowrie covers all the area of Nancowrie and Kamorta. A total of 5351 people are residing in this PS jurisdiction and about 80% populations belongs to Nicobari tribe. The crime rate of this PS is very less as compared to other Police Stations. Road traffic is also maintained by local police and proactive traffic checking is carried out by the staff, as a result of which we have been successful to accomplish the magic figure of no road traffic accident in this PS during the last two years and current year till date.
This P.S. has one LOP namely "Tillang Chang" which is situated 35 NM away in the North East direction of Kamorta. The LOP is accessible only by means of water transport. The LOP is manned by Executive, Police Radio and IRBn personnel for watch and ward duty for the safety and security of this Island.
In order to strengthening the security of the coastal area, a Fast Interceptor Boat (FIB) is also provided to this PS for conducting patrolling in and around the Islands. The FIB is also utilized for Anti-Poaching operations as and when required.