Campbell Bay Sub-Division
The Campbell Bay Sub Division is consisting of one Police Station i.e. PS Campbell Bay. This PS comprises three Out Posts namely Machachua, Afra Bay and Gandhi Nagar.


Campbell Bay Police Station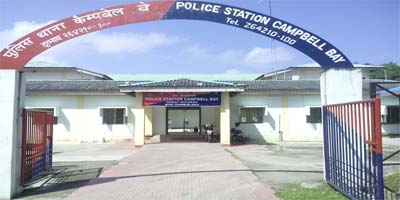 About the Campbellbay Police Station
Phone No: 03193-264210
Campbell Bay is located on the island of Great Nicobar, the largest of the Nicobar Islands in the Eastern Indian Ocean, approximately 190 km to the North of Sumatra. The Head Quarter is located at Campbell Bay, which is 544 km far from Port Blair and 270 Km from Car Nicobar. The total geographical area of this island is 1045 sq. km and the highest peak is Mount Thuliar, which is the second highest peak of A, & N. Total population of Great Nicobar Island is 8189 as per 2011 Census. Apart from Nicobari tribe which is the most predominant tribe in the district, Shompen tribe is also found in Great Nicobar. Also, a number of people belonging to the families of the 330 ex servicemen who were settled here between 1969 and 1980 reside here. Indira point, India's southernmost point, is situated about 51 km in south direction from PS Campbell Bay and is presently approachable by sea route only.
P.S. Campbell Bay is located in the Head Quarter area at zero Km milestone. The Police Station has an RCC building and P.S. complex has barracks and officers' quarters as well. Campbell Bay is a sub division and is manned by an officer of DySP rank. There are a number of revenue villages under the P.S. jurisdiction such as Campbell Bay, Govind Nagar, Joginder Nagar, Gandhi Nagar, Lakshmi Nagar and Shastri Nagar etc. The Entire western coast of Great Nicobar and entire coastline of little Nicobar under PS Campbell Bay are prone to foreign poachers. To prevent foreign poachers, 02 OPs have been established at Afra Bay and Makachua in Great & Little Nicobar Island under the jurisdiction of PS Campbell Bay. Besides, there is an out-post functioning at Gandhi Nagar, Campbell Bay.